15 Jan 2020

Fires in Australia connected to climate change, despite denial by Prime Minister

Climate scientist Michael Mann is on sabbatical stay in Sydney, Australia where he studies the correlation between climate change and catastrophic weather events.

Home to one some of the greatest natural wonders of this planet, like the Great Barrier Reef and lush temperate rainforests, Australia has been burning since November. Professor Michael Mann has no doubt, what he is witnessing first-hand is "human-caused climate change".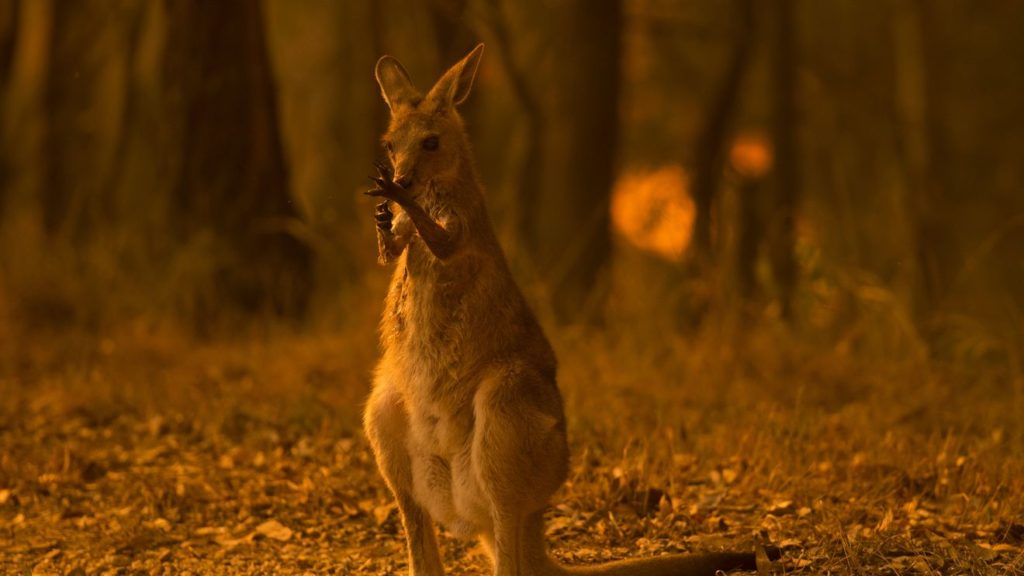 As fires continue to rip through Australia, some devastating numbers are emerging: at least 27 people died, more than 16 million acres torched. Over 1,400 homes destroyed. And, according to biodiversity experts, an estimated 1 billion mammals, birds and reptiles nationwide may have been affected or killed by the fires sweeping across Australia, making it the worst fire event on record.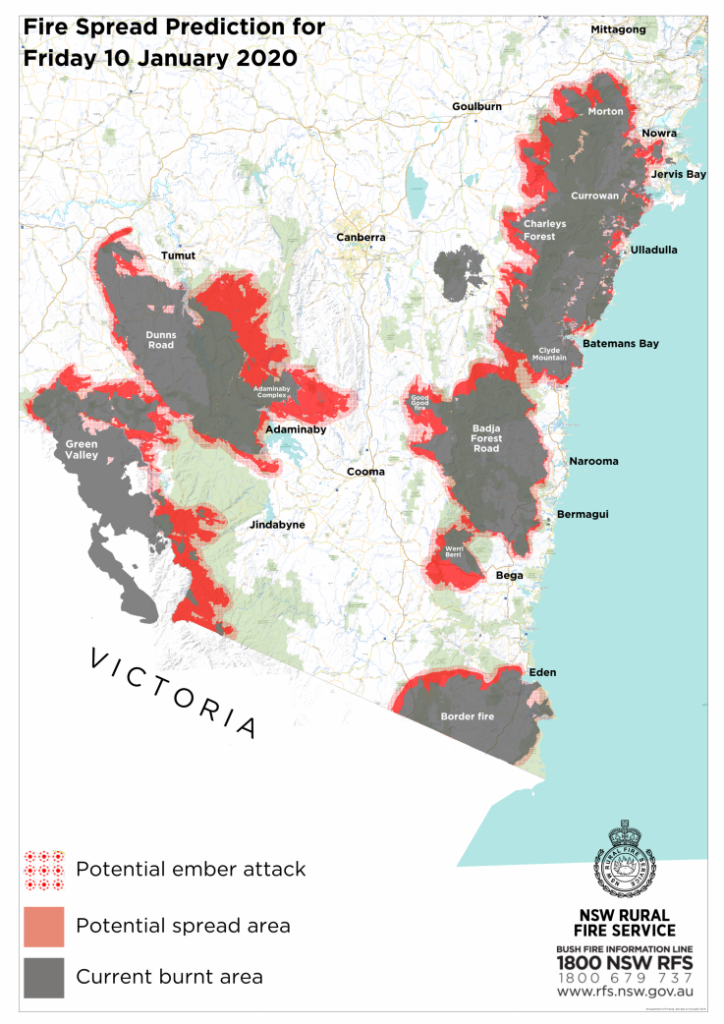 Unprecedented bushfires are a combination of record heat and severe droughts. Such events, Professor Michael Mann explains, are due to the combustion of fossil fuels: oil, natural gas, and coal.
It is a wake-up call for Australia, a country that gas not suffered a single recession for the past three decades powered by a massive mining boom. The book The Lucky Country was written to describe the Australia of the 1960s. The country has a population of 25 million and an entire continent of natural resources to prosper from. Today, that cornucopia of resources is driving climate change, with global warning being the major factor behind the fires, water shortages and record temperatures. Australia is no longer the lucky country.
However, Australian media are quite far from acknowledging the climate crisis. A research has shown that "climate scepticism gets substantial favourable exposure in mainstream Australian media". As a result, Ipsos polling finds that Australia lags behind other nations in "acknowledging the threat of climate change". Recently James Murdoch has criticised his father's conservative NewsCorp outlets for promoting false scepticism on climate change and ongoing denial of global warming as bushfires spread across Australia.
Australia's PM, Scott Morrison, has been widely criticised for not addressing climate change and accused of sabotaging, along with Saudi Arabia and Brazil, at the recent COP 25. Australia's Environment Minister Angus Taylor, together with petro-states' peers, blocked agreement to develop a global carbon market as other environment negotiators had refused to let Australia avoids tougher emissions reduction targets.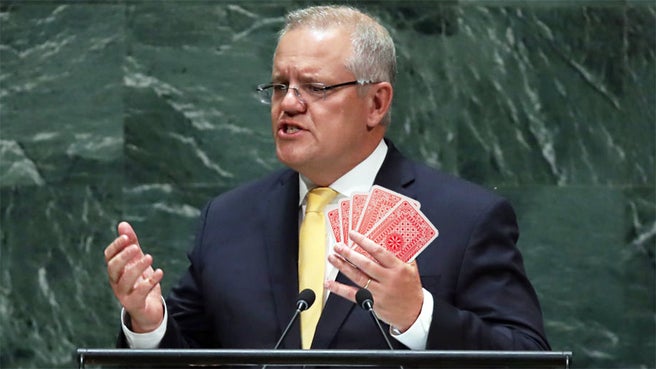 Australia would trade off carryover credits accrued under the Kyoto Protocol to meet half its Paris Agreement target of a 26-28% cut in GHG emissions by 2030. Mr. Angus Taylor argues that overachievement on previous international goal has to be rewarded, but other parties say that this is not in line with the spirit of the Paris talks. Australia's disruptive manoeuvre was one among many other disturbing actions which deadlocked the talks until the next UN conference on climate change starts in Glasgow, Scotland in November 2020.
However, according to the 2020 Climate Change Performance Index, Australia scored "Very Low", the lowest score possible, as it was ranked as the sixth-worst performing of the 57 countries assessed. Furthermore, it was the worst-performing country on the ground of climate policy. The index is published annually by New Climate Institute, the Climate Action Network and Germanwatch, and it investigates and rates "countries' climate protection performance across four categories: emissions, renewable energy, energy use, and policy.
On the assessment of national and international climate policy, Australia is singled out as the worst-performing, with the report saying the re-elected Morrison government "has continued to worsen performance at both national and international levels."
In November, Sweden's central bank said it had sold off bonds from Western Australia and Queensland, because it felt that greenhouse gas emissions in the country were too high. And that was way before the fires apocalypse.
We see communities left with no support. One of the few Aboriginal communities to get any coverage in the media is Lake Tyers, in Gippsland, where a small tank on a ute is the only firefighting equipment available to the community. Meanwhile Prime Minister Scott Morrison's new plane cost a reported $250 million.
Australia is one of the greatest biodiversity hot spots in the world and as Prof Dickman, a leading ecologist from the University of Sydney, says "the trees will have to regrow and koalas don't begin to use trees until they're at least 15 to 20-years-old." Koalas have been declared 'functionally extinct'. In New South Wales alone, it is estimated 8,000 – 30% of the population – have been killed. Prof Dickman said he hopes this catastrophic event will be a 'wake-up call' for politicians to start taking climate change seriously.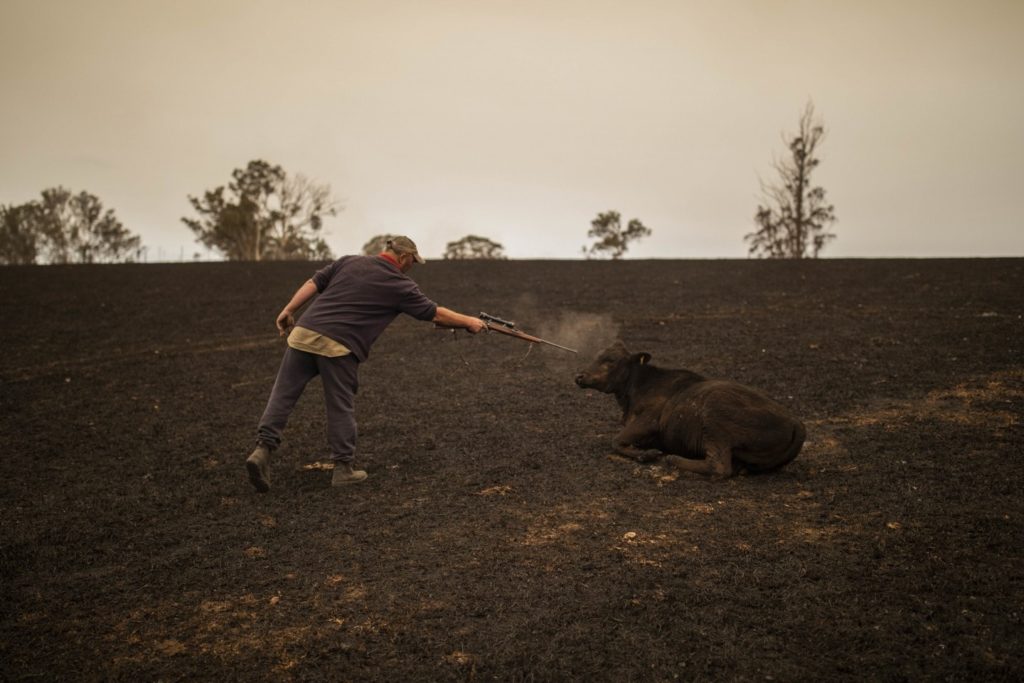 Last week, Sydney was one of the hottest places on the planet, just under 50 degrees Celsius. The Climate Council of Australia is predicting that those kind of temperatures could become the norm by 2040. On top of that, towns are running out of water. In the meantime, a mass slaughter of 10,000 camels is happening in Australia as they desperately search for water. Officials say camels are getting too close to towns in search of water, contaminating supplies for communities affected by drought.
Fires are nothing new in Australia, but they are becoming more destructive in recent years, a problem that has been exacerbated by climate change. And animals have been on the front lines as Australia has the highest rate of species loss of any area in the world, and researchers fear that rate could increase as the fire disaster continues.
For further information, see the following links:
https://www.theguardian.com/commentisfree/2020/jan/02/australia-your-country-is-burning-dangerous-climate-change-is-here-with-you-now
https://www.ft.com/content/632369d4-3164-11ea-9703-eea0cae3f0de?desktop=true&segmentId=d8d3e364-5197-20eb-17cf-2437841d178a#myft:notification:instant-email:content
https://edition.cnn.com/2020/01/08/australia/nasa-kangaroo-island-fires-int-hnk-scli/index.html
https://www.theguardian.com/environment/2019/dec/11/australia-ranked-worst-of-57-countries-on-climate-change-policy
https://www.theguardian.com/environment/2019/nov/15/swedens-central-bank-dumps-australian-bonds-over-high-emissions
Fires wipe out entire species putting Australia 'on brink of extinction crisis'
https://www.smh.com.au/environment/climate-change/morrison-s-big-failure-is-his-lack-of-leadership-on-climate-change-20191220-p53lxz.html
https://www.smh.com.au/politics/federal/missed-opportunity-australia-avoids-tougher-emissions-reduction-targets-20191216-p53kcw.html
https://www.theguardian.com/australia-news/2019/dec/19/419c-australia-records-hottest-ever-day-one-day-after-previous-record
https://www.afr.com/policy/energy-and-climate/explained-why-kyoto-carryover-credits-are-so-important-20190402-p519ws
https://www.uts.edu.au/sites/default/files/Sceptical-Climate-Part-2-Climate-Science-in-Australian-Newspapers.pdf#page=73