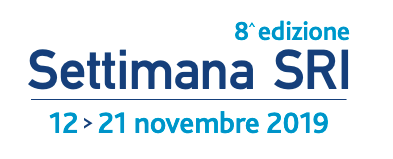 12 Nov 2019

SRI Week – Sustainable Finance Forum

Date/Time
12/11/2019 - 21/11/2019
All Day

SRI Week is coming at its 8th edition, which will take place in Milan, Rome and Naples from November 12 to 21. Once again the Sustainable Finance Forum is the initiator and promoter of one of the main initiatives in Italy addressed to Sustainable and Responsible Investment (SRI). 

The agenda will include 13 conferences, presentations and round tables and the debate will engage professionals in the world of finance and business, academics and representatives on national and international institutions. Once again, Sustainable Value Investors will be among the participants to the Forum and take part in the debate.

Among the topics which will be discuss, it is worth to mention:
Climate and sustainable finance
Sustainability rating: opportunities and benefits
European Union and sustainable finance: impacts and perspectives for the Italian market
Investing in forests and natural resources: experiences and opportunities for Italy
While waiting for more information, you can download and read the agenda and panel of the SRI Week at this link.