18 Sep 2020

Bottled water in China: Nongfu IPO success, but what about its sustainability from an ESG perspective?

The IPO of Nongfu Spring, a bottled water brand in mainland China, broke the record of the subscription capital of HKEX on September 8, 2020: it was 1,147 times oversubscribed by more than 700 thousand investors. The listing made the owner of the brand, Zhong Shanshan, the third richest person in China, trailing Pony Ma Huateng from Tencent and Jack Ma from Alibaba. The IPO's declared aim was to expand the shareholder basis (so improving the governance), not to raise resources to support the industrial plan, since the profits distributed to shareholders within the last year were more than twice the maximum amount of funds raised from the IPO. How sustainable the business model of Nonggfu Co. Ltd is? Various controversies exist, such as damage to biodiversity from the bottling activities, possible chemical waste dumping around the Hubei reservoir, product safety concerns in the past years, and plastic packaging pollution on Chinese beaches.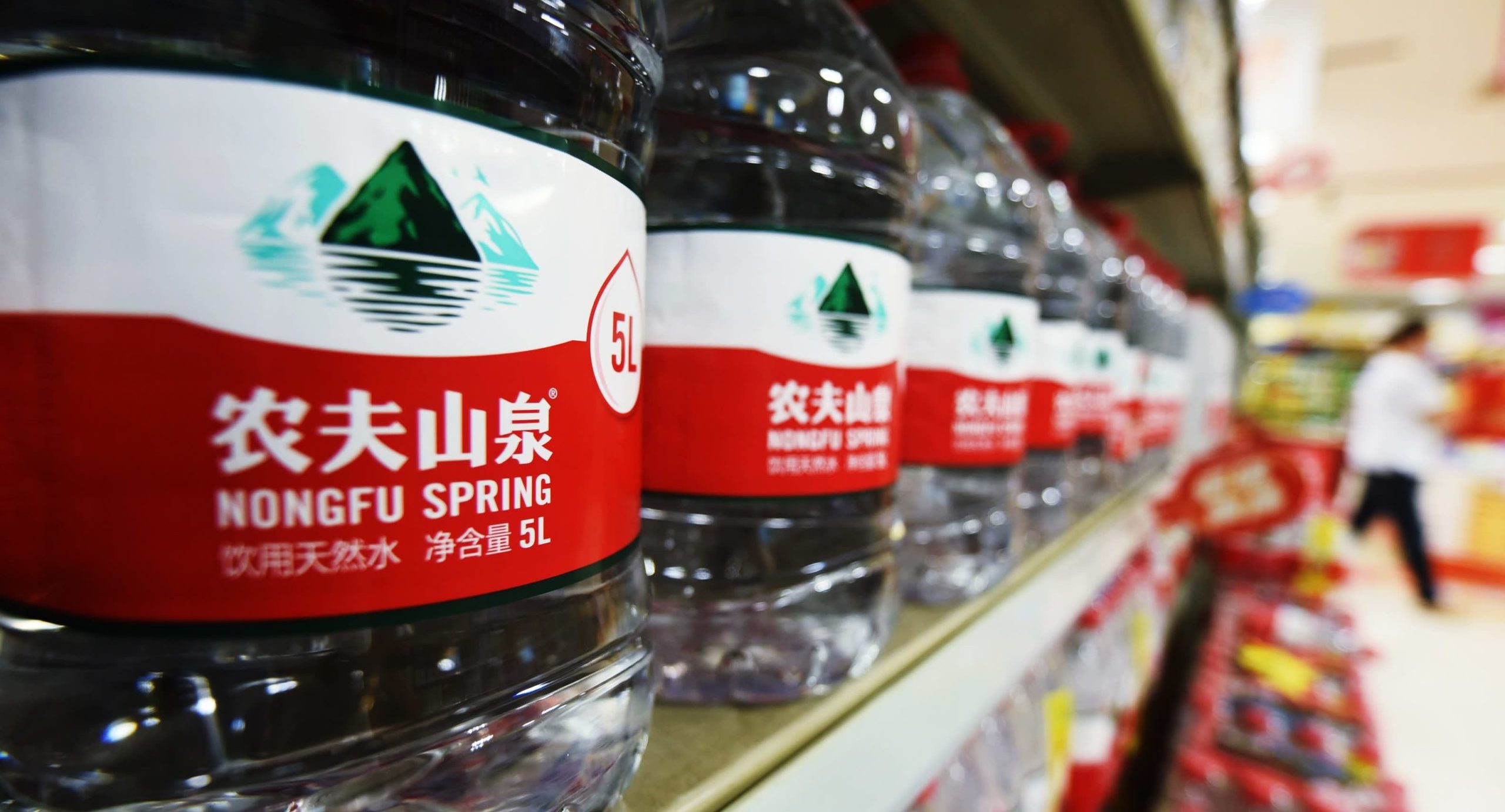 Nongfu Spring, a ubiquitous brand famous for its bottled water with a signature red cap, has been named the "Frozen Capital King" with its IPO on HKEX. This record-breaking IPO in Hong Kong was jointly sponsored by Morgan Stanley and CICC and locked up as much as HK$ 677 billion (approximately EUR 73 billion) in subscription capital – about a third of Hong Kong's daily cash in circulation. By earlier this year, Nongfu Spring distributed a total of 11.2 billion yuan to existing stakeholders before the listing. Another 7.5 billion historical retention profit will also be distributed to existing shareholders which brings the total amount to 18.7 billion yuan, which is more than twice the maximum amount of funds raised from the IPO.
According to the prospectus, Nongfu Spring, which is based in Zhejiang, recorded revenue of 24 billion yuan (around US$3.4 billion) in 2019 with a net profit of 4.95 billion yuan (a 20.6% increase compared with the previous year). The IPO brought an 85% surge of the company's shares to HK$39.80 in early trading. The low-profile owner of Nongfu Spring – Zhong Shanshan, who controls 84% of the company's shares – had an increase in wealth of about HK$313 billion with the flotation. He owns 17% of the direct shares and has control over the other 67% through Yangshengtang, a company completely owned by him. It's also worth noticing that Zhong Shanshan is also the biggest shareholder of Beijing Wantai Biological Pharmacy Enterprise, a producer of COVID-19 test kits. Now with the new IPO of Nongfu Spring, the combined wealth of about US$50 billion makes him the third richest person in China, right after Ma Huateng (Chairman of the internet giant Tencent) and Jack Ma (founder of Alibaba).
Nongfu Spring stands for Farmers' spring in direct translation. The company is known for advertising and associating Nongfu bottled water with health and nature. Apart from bottled water, the company has a diversified product portfolio with also flavored water, tea, juice, and even coffee since last year. With an increasing trend of healthy consumption and rising demand for healthy drinks, many believe that the strong branding of "healthy" and "natural" helps the company differentiate its products even more and be more competitive in the market.
However, due to the ongoing pandemics and inundation, the growth of the company has slowed down. Numerous factories and retail points were closed down and led to a 13% decrease in Nongfu Spring's revenue in the first five months of 2020.
Nongfu Spring pointed out that the company seeks to be listed in Hong Kong on the grounds of improving its shareholding structure, laying a foundation for the expansion of international business, further improving corporate governance, and enhancing the company's comprehensive competitiveness. Nongfu Spring also stated in the prospectus that the company proposed on August 14 to distribute the 7.8 billion yuan of "historical retained profits" to existing shareholders before the listing. The two dividends distributed a total of 17.39 billion yuan, which is more than twice the maximum amount of funds raised from the IPO.
Albeit the successful branding of "healthy" and "natural", Nongfu was criticized by NGOs and consumers for irresponsible management or poor performance in ESG related issues. Plastic products from an array of beverage companies including Nongfu were accused of polluting Chinese beaches. The company was also criticized by China Water Risks, an NGO based in Hong Kong, for threatening China's groundwater sources and intruding nature reserves and natural landscapes. The water bottling industry in China was described as "unregulated with explosive growth".  Reportedly, Nongfu's illegal waste dumping around the Hubei reservoir has also contaminated the soil and water and polluted the local fish feed. Two consumers have reported finding dark floating particles in bottled water produced by the company, critics suspect this may be related to the pollution in the company's Hubei reservoir. Back in 2009, the Haikou Municipal Industrial and Commercial Bureau announced that beverages produced by the Nongfu Spring Company and Uni-President China Holdings were reportedly found to contain arsenic or sulfur dioxide above the legal standards. Both companies claimed that the products had all passed initial local inspection after production. In addition, most of these giant bottling companies do not have any sustainability reports and fail to present data on their water usage. Nevertheless, the prevalent environmental concerns in this industry seem to be commonplace and not just pertinent to Nongfu.
Last week, China pledged to speed up emission reductions and reach carbon neutrality by 2060. Last year, China also started to implement a waste sorting and recycling scheme on a national scale which had the first trial run in Shanghai. The huge volume of China makes its role in all environmental issues predominant. Following this backdrop, giant water bottling companies like Nongfu are expected to undertake more responsibilities and improve their environmental practices together with their "explosive growth", in order to be consistent with their advertising and not be accused of greenwashing.
Last but not least, political lobbying is also a relevant topic to be considered in a corporate governance analysis. There are some tips in the article on the Economist of Sept. 12, 2020 'Nongfu Spring is a hit with tipplers and investors alike'.
To read more about the listing, see the following links: