27 Oct 2020

Unilever is top ranking in The Responsibility 100 Index developed by Tortoise Media, setting a best practice in tackling upstream and downstream emissions

Tortoise Media presented its Responsibility 100 Index with Unilever ranking first at the Responsible Business Summit, held online last October 15th, 2020. Unilever's CEO provided some key insights on innovative and groundbreaking policies for increasing sustainability along the whole supply chain. By focusing on responsible consumption, GHG emissions and regenerative agriculture, Unilever is accelerating the 'race to the top', providing best practices, and putting pressure on underperformers to adapt and improve.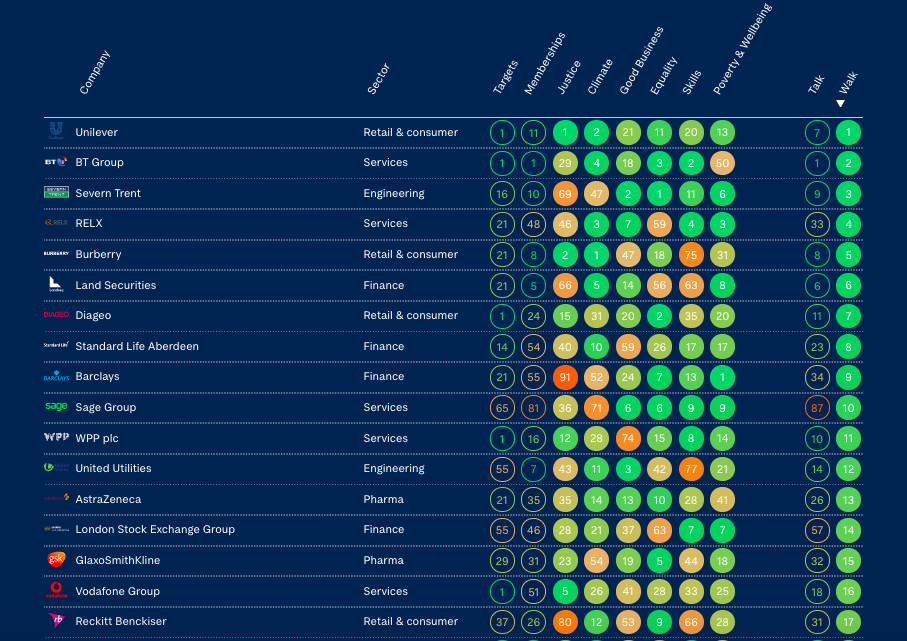 Tortoise Responsible Business Summit held on the 15th of October was a stimulating opportunity to explore the gap between corporate talk and ethical walk – and to do so with voices, ideas and contributions from all over the world. The Tortoise Responsibility 100 Index was developed to discern how much wall-to-wall, well-intentioned corporate commitments are translating into action on climate change and equality. It is a ranking of the FTSE 100 companies' social and environmental leadership, that uses both data from NGO research as well as companies' annual and sustainability reporting to examine how much each of the FTSE 100 companies are doing to ensure a safe, fair and sustainable world. Given that Unilever was ranked at the top of the Responsibility Index, its CEO, Alan Jope, was invited to give some insights on the importance of interconnectedness in solving the big challenges of today.
In his discourse, he tackled three main issues: responsible consumption, GHG emissions, regenerative agriculture.
Starting from the first element, he underlined the growing trend of consumers, especially millennials, to care about the social and environmental impact of the products they buy. To this regard, Mr. Jope highlighted how LifeBuoy, one of their hygiene soap brands, has grown 67% in one year, partly driven by people more caring of their hygiene, partly because they are aware of the positive contribution the company makes in preventing almost 600,000 child deaths every year.
Moreover, he does believe that adopting strategies having some positive impact on the planet means better financial performance: "There is no trade-off between purpose and profit but rather the purpose is a pathway to better financial performance and profits. Indeed, the brands that adopt strategies having some positive contributions to the planet are the brands that grow the fastest."
As for GHG emissions, the CEO noted how the majority of them comes from consumer use. Manufacturing and distribution represent about 4% of the total GHG footprint, raw materials account for 24% of it, while consumer use accounts for over 60% of GHG emissions.
Whilst Unilever has increased the use of renewable energy in its factories and sustainable product innovations, its current focus is on how to reduce the upstream (raw material supply) and downstream (consumer use) emissions.
From the raw material supply perspective, Unilever has had for a long time the Sustainable Agriculture Code, and is now adopting the Regenerative Agriculture Code, so as to rebuild the critical resources. The company has set out a plan to help regenerate nature by increasing local diversity, restoring soil health and preserving water conservation and access. This will be achieved by empowering suppliers committed to regenerating the environment, punishing instead those who violate the code. Issues surrounding water scarcity, deforestation and sustainable supply chains also fall under the regenerative banner, which is looking to drive change across the industry.
However, from a consumer use perspective, the only structural solution would be to shift the grid from fossil fuels to renewable energies, a move which is being undermined by the lowering of prices of the former, despite the greater availability of the latter. This is where Unilever uses its advocacy and brand with government agencies, advocating about grid-change.
Concluding, Unilever is also addressing food loss and waste across its value chain through innovation and collaboration. World hunger is on the rise again, yet nearly one-third of the total food the world produces is wasted. This is not just a waste of the world's natural resources, but also a huge part of the world's carbon footprint. Unilever applies a lifecycle approach to identify where the biggest impact lies and help them understand where they can reduce it. While working to tackle the biggest environmental challenges changing the way they source, make and distribute products, consumption habits are just as important.
If you want to read more: