01 Oct 2020

Accelerating Net Zero Carbon Emissions and the risk of cheap talks

More and more companies, cities, regions, countries are committing to becoming carbon neutral, i.e. to balance out the sum of all greenhouse gases put into and taken out of the atmosphere. More companies than ever committed to ambitious climate action at the Climate Week in New York City: the acceleration of net-zero commitments during the global pandemic shows us that businesses, countries, investors and universities across the world understand that the twin challenges of tackling climate change and COVID19 go hand-in-hand. Meeting the goal of net-zero emissions by 2050 requires an unprecedented scale of action and collaboration across all levels of society.

Airlines were early movers into carbon neutrality, allowing their customers to add a small donation to their ticket to offset their individual carbon emissions. No doubt spurred by the spread of flygskam or flight-shaming, the international aviation industry will be formalizing carbon neutrality through an offsetting marketplace in 2020.

But the practice is spreading faster and farther, with carbon-neutral commitments by investment and pension funds, the construction and agricultural sectors, technology giants like Google and Amazon, and of course, cities and nations. Electricity and transportation, which together make up almost half of global emissions, according to Center for Climate and Energy Solutions, have also made significant attempts at carbon neutrality. Electricity generation will play a key role in decarbonization, as transport is increasingly electrified through battery or hydrogen-powered vehicles.

The Climate Week NYC 2020 issued in a new decade of perspectives on climate action around the world, with the business sector communicating higher levels of ambition in terms of intensity of efforts and scope of participants. Companies, both private and public, big and small, have stepped up, with a novel focus on Scope 3 emissions. The number of companies committing to net-zero emissions by 2050 across their total scopes of operation reached upwards of 1,000.

Prince Charles' commented in a speech to launch Climate Week "It is absolutely vital, given the enormity of the problem we face, that we make truly transformative progress along the road to net-zero by 2030, taking the tough decisions now rather than deferring them to the next generation". He also encouraged global financial institutions and institutional investors to publicly outline accessible roadmaps to take their portfolios to net-zero between 2020 and 2030, encouraging countries themselves to work towards COP26 by outlining publicly available roadmaps to net-zero which set out priority industries for transition along with the actions required to restore or enhance natural capital and biodiversity.

Other remarkable events of the Climate Week are China's commitment to reach peak emissions by 2030 and to become carbon-neutral by 2060, South Korea's Green New Deal headlined by a 2050 net-zero goal, and Walmart's 2040 net-zero target. Furthermore, HBS New Energies and Macquarie's Green Investment Group announced the successful connection and completion of its 11.6MW solar array at Anglian Water's Grafham Water site, part of a sector-wide effort to reach net-zero by 2030.

A recent report "Accelerating Net Zero", co-authored by EnviroLab and NewClimate Institute, Funded by IKEA Foundation, confirms the gaining of momentum towards zero emissions, which accelerated alongside Climate Week. Cities, regions, companies are pledging to net-zero emissions on a growing scale, taking an important step towards keeping the Paris agreement within reach. Cities making net-zero pledge have grown sevenfold, whereas the participation among regional governments has grown nine-fold. These regions and cities represent 11 percent of the global population and have a greenhouse gas emission footprint of 6.5 gigatons of carbon dioxide equivalent. Given their scale, their efforts could add momentum to the Paris agreement goal of reaching net-zero emissions by 2050.

Figure – Geographical coverage of cities and regions pledging towards net-zero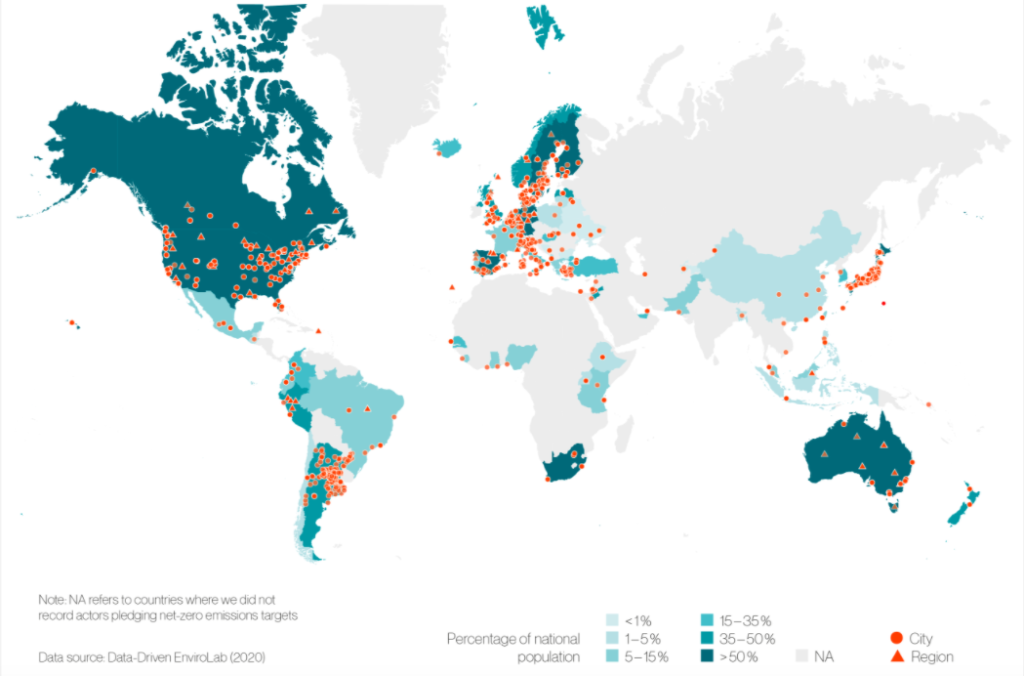 Momentum among cities and regions spans most geographic areas, and participation in net-zero efforts are especially strong in East Asia and Pacific, as over 160 cities and more than 30 regions, including eight of Australia's states, are members of the 2050 Zero Carbon Initiative. North America, with 27 regions and 121 cities, and Europe, with 290 cities and over 350 regions, are committing to achieve net-zero emissions across their entire economy or within key sectors such as renewable energy. Copenhagen aims to become the first carbon-neutral capital by 2025, while Turku, in Finland, has pledged to become carbon neutral by 2029.
From an industry perspective, both the consumer discretionary sector and industrials lead the way, with respectively 195 and 171 companies aiming for net-zero. Among the major companies committing to being net-zero, Lafarge Holcim, the world's leader in building solution, Walmart, the world's largest retailer, financial giant Morgan Stanley, Ford and Facebook, which are the newly committed to net-zero emissions in the coming decades as part of the United Nations' Race to Zero campaign. AT&T, Google, General Electric, Amazon, Intel Corporation, PepsiCo, ASICS, SKF, and Velux Group have also signed on to their Climate Pledge, committing to implement decarbonization strategies in line with the Paris Agreement. Among the climate pledges, special attention should be given to Morgan Stanley, which become the first major US bank to commit to net-zero emissions, and Walmart, which has pledged to become carbon-neutral across its global operations.
However, as always, these companies need to be held accountable for reaching their goals in meaningful ways. In fact, various actors, among which Rainforest Action Network's climate and energy director McCully, are skeptical about the real commitment of those companies, as it's one thing to set a goal, and another to actually achieve it. In fact, climate hawks are pushing corporations to get more details on how they plan to achieve the target.
If you want to read more: